Video Description
---
CE certified OBS Electrosurgical Unit 350A
Excellent compatibility, available in vessel sealing, suitable for general surgery,vascular surgery, hepatobiliary and pancreatic surgery, cardiothoracic surgery, gastroenterology, TURP and TUVP, and compatible with cystoscopy, arthroscopy, laparoscopy and hysteroscopy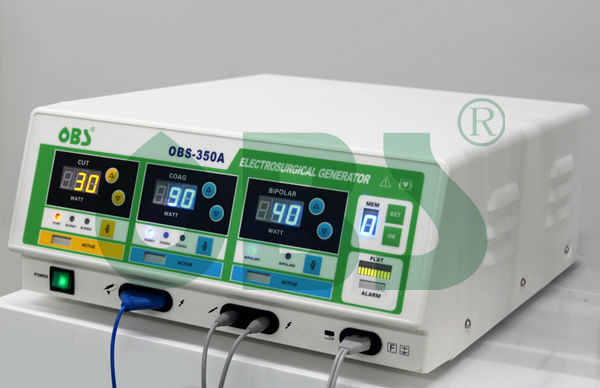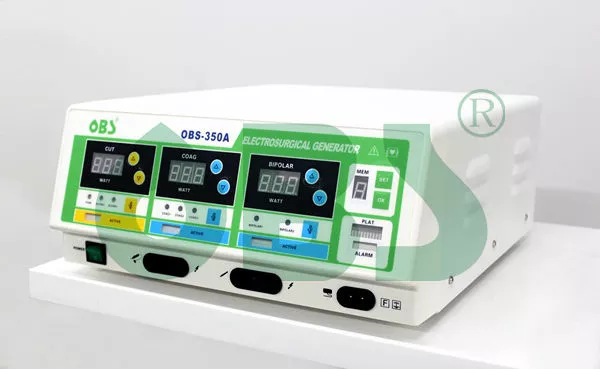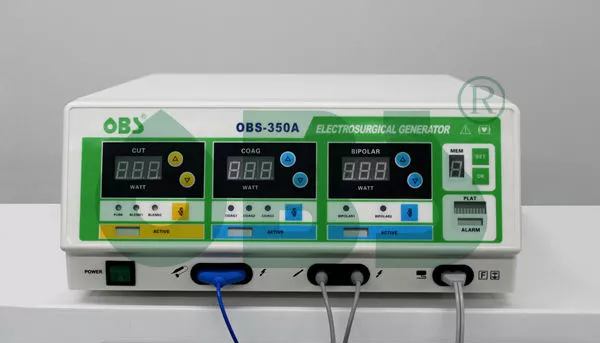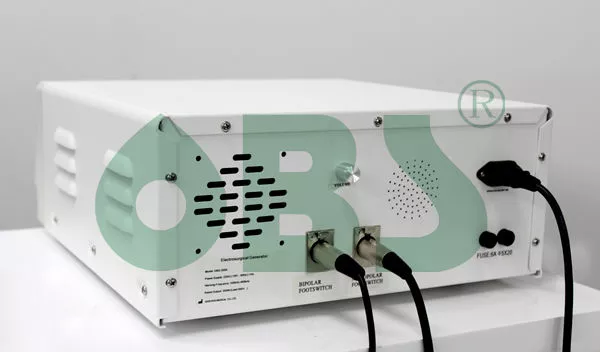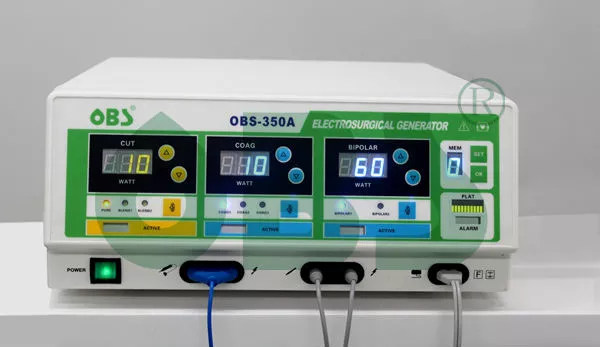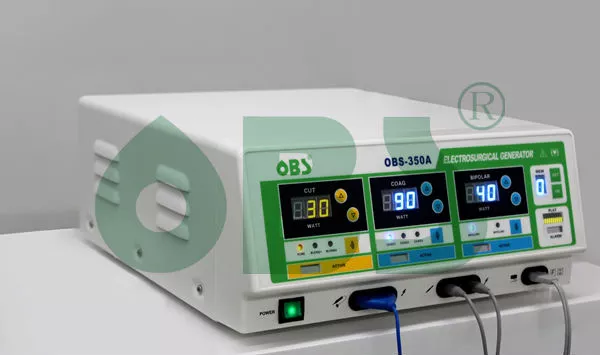 Feature
A. Automatic Detection Function for Startup and Error Function.

B.Memory Function. Therer are totally 10 memory settings, the previous power setting digits is presented when restart the generator
C.Neutral electrode contact quality inspection system, the contact area between the pad and the patient skin can be detected,the system is providing the real-time evaluation of the pad and the patient skin to see if it is big enough for the efficient contact area, the output will be automatically stopped and alarm is raised once it's detected that the contact area is getting small to the certain dangerous situation.
D.Large vessel ligation
E. It can start the argon system, the set of argon plasma coagulation system is completed by matching up with the argon system.
F.Huge high-definition digital display.
G.With excellent compatibility, it connects with cystoscopy, arthroscopy, laparoscopy, and hysteroscopy and providing them the power source to cutting and coagulation. It also operated at the urethral resection of the prostate(TURP),the arthroscopic surgery and the usage of gasification electrode surgery(TUVP) etc.
H.Each output terminal is independent output design.
| | |
| --- | --- |
| Environmental temperature range: | 5°C~ 40°C |
| Relative moisture range: | ≤80% |
| Atmosphere pressure range: | 86.0 ~ 106.0 Kpa |
Working modes:
| | | |
| --- | --- | --- |
| Pure Cut | (1W-350W,Load:500Ω) | Fine Cutting, fresh tissue surface and no cursting existed. |
| Blend Cut 1 | (1W-200W,Load:500Ω) | With slight coagulation during cutting |
| Blend Cut 2 | (1W-150W,Load:500Ω) | With strong coagulation in the process of cutting |
| Coagulation 1 | (1W-120W,Load:500Ω) | spray coagulation,which is providing the efficient non-contact coagulation with the operation of the argon system. |
| Coagulation 2 | (1W-150W,Load:500Ω) | Strong coagulation or spray coagualtion and the coagulation is comparatively much faster also the working area is much bigger. |
| Coagulation 3 | (1W-120W,Load:500Ω) | Soft coagulation or pinpoint coagulation, comparatively they have more effect on the solidated layer of the tissure, and the scope is smaller , it works with endoscopy |
| Bipolar Coagulation 1 | (1W-150W,Load:100Ω) | Large vessel sealing, then the arteriovenous of 7mm or less can be safe closure, the ESU generator feels the electrical impedance of the tissue from the forceps, the system will automatically stop the output and the sound alarm is activated when the tissue get coagulations reaching to the optimum standard. |
| Bipolar Coagulation 2 | (1W-120W,Load:100Ω) | Without any delay at the instant of startup, and it's applicable to micro surgery. |
Technology data:
| | |
| --- | --- |
| Voltage: | 220V±10V, 50Hz ±1Hz |
| Working frequency: | 330KHz ~ 460KHz |
| Leakage currents to ground: | Less than 0.5mA |
| Leakage currents to patient: | Less than 0.01mA |
Transport data
Dimensions: 47cm*42cm*16cm
Gross weight: 13Kg